Gear selector
The gear lever is placed between the driver's and the passenger seat. Use driving mode D to drive forward and R to drive backward.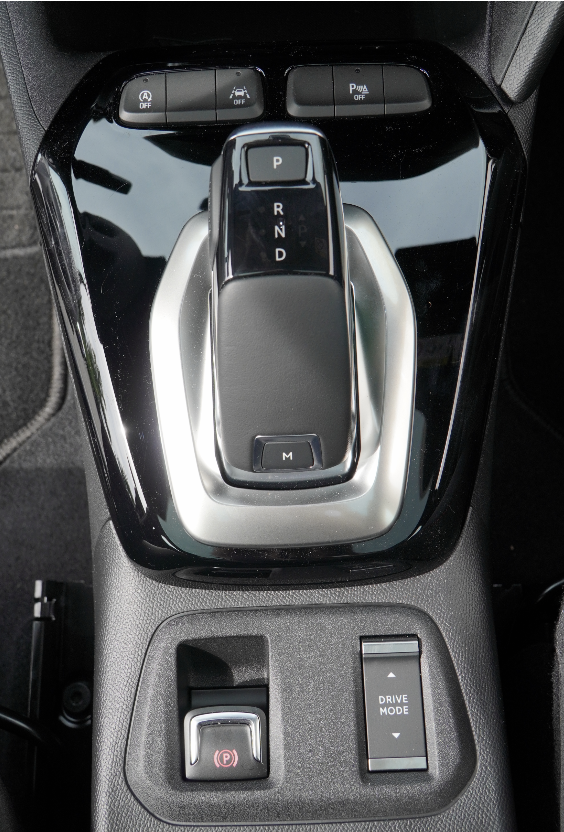 Side mirrors
You can manually adjust the side mirrors via the offside door. Simply adjust the cog until you've found the optimal angle for a clear rear view.

Rear View Camera
The rear view camera makes parking easier and turns on automatically as soon as you select reverse gear. Nevertheless, please keep a close eye on your surroundings and ask for help when maneuvering!
Lane Assist
Using an intelligent on-board camera and sensors, the Lane Assist monitors the road ahead to always keep you on the right path. If you start to drift, the smart steering wheel nudges you back on track. That makes it perfect for longer rides or road trips.
Speed Sign Recognition
The speed sign recognition alerts you to important signs ahead. It also displays upcoming speed limits. So, with just the push of a button, you can set cruise control to auto adjust your speed as needed.
Infotainment System
The infotainment system provides access to all important functions:
Music
Navigation
Bluetooth
Vehicle settings
Between the driver's and passenger's seats you'll find two USB-C ports, which you can use to charge your devices while driving.
Child Car Seats
The Opel Corsa is equipped with suitable Isofix mounts that you can use to fix a child seat.
If you want to place a child seat on the front passenger seat, please make sure to deactivate the front passenger airbag before driving off.
The airbag setting is located on the passenger side in the glove compartment.
Important: Before you end the rental, the airbag must be switched on again!
Find out how you exactly deactivate the passenger airbag here.